JPG To PDF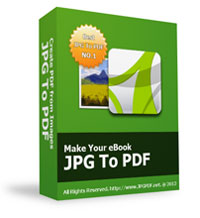 JPG To PDF is a Windows utility to convert JPG to PDF format. Besides converting every single JPEG image to PDF files normally, the converter also has an option to convert multiple JPG files to a single PDF file. That means you can make your own PDF photo album or PDF eBook!

Convert JPG To PDF with More Features
JPG To PDF Download
Converting JPG Files to PDF
JPG To PDF is a very tiny Windows software allows you to convert all your JPG files to PDF files. Files can be changed in several ways. It can be one at a time, or you can turn all the JPG files into just the one PDF one. It opens a variety of options as you will be able to produce your own PDF eBook or photograph album.
More about JPG To PDF Software
The features are well designed and it is very likely that you will use all of them. They include: - Speed of conversion. It only takes a few seconds to turn 100s of images saved as JPEG into a PDF document. It does not matter if the files are large, they are still going to be converted at 300% more quickly than if another converter was used. - Adobe Acrobat PDF software does not have to be installed as the convertor is a stand-alone converter. - It can convert most of the popular image formats, including BMP, JPG, ICO, PNG, TIFF, JPG TIF AND GIF to a PDF document. - The quality will be excellent and very hard beat. - It takes just a couple of clicks to carry out the conversion. As an alternative, the files can be dragged to their new location. - BMP files can be compressed. They can be turned into either multiple or single PDF files.
Convert each JPG File To a Single PDF
It could not be easier to convert files. You will have to click on the button marked "setting" and alter the conversion mode. It needs to be the one titled "Convert each JPG to PDF." Installation of JPG To PDF There are a few places that can be used to download the converter. Once that has been done, installation can begin. You need to double click on "jpgtopdf.exe" and carry out the actions that are listed. There is not a lot that needs to be done. You will just be clicking on the "Next" button. It will run as soon as it has been installed. Start the JPG to PDF Conversion This is also an easy process, whether it is one or multiple files being converted. The first step is to choose the settings button and select to change "conversion mode" that will be showing to "convert all JPG to Single PDF." To add files, it is just a case of dragging the files or using the "add folder" button to get them to their new location. This will happen once the "convert" button has been used.
Why Do You Need a JPG to PDF Converter?
There are a few reasons why you will want to convert the files. - You may want to create a PDF. JPEG or TIF files that have been scanned in can become PDF files. - With eBooks being so popular, this will be the ideal way to produce one. - JPG pictures can be turned into albums, and doing this at home will be a great way to produce gifts for family and friends. - PSD source files can be protected when changed into PDF format. - BMP files can be compressed into either a single or multiple PDF file.